Fairs
Tradefair dates for construction machines and agricultural engines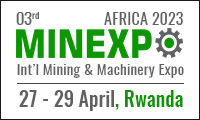 27 apr 2023 – 29 apr 2023
Kigali, Rwanda
Ruanda
MINEXPO RWANDA 2023
Minexpo Africa is the only show with the widest range of the latest technology in the mining & processing of minerals industry. The event will satisfy the expectations of clients to the mining companies. The latest technology and machinery in mineral extraction, earthmoving, safety equipment and much more, are presented here.
The exhibition provides a common platform for both local and international exhibitors, professionals, buyers and delegates who share a common outlook in the industry. Mining is one of the core sectors that drives growth in the East African region in terms of infrastructure and economy.
Not only does it contribute to GDP, but acts as a catalyst for growth in other industries such as construction, power & energy and industrialization. The future of the mining sector in Africa lies in laying emphasis on scientific mining so that state of the art technology & machinery is used for exploration, efficiency and safe mining practices.
https://expogr.com/rwanda/minexpo/index.php

23 mag 2023 – 26 mag 2023

Iraq
IRAQ BUILD EXPO
13th Building, Construction and Municipal Equipment Exhibition, the biggest construction fair in Middle East, will be opening doors on 23-26 May 2023 with supports of Ministry of Construction & Housing Ministry of Electricity, Ministry of Commerce, Basra Governorate and other major institutions and ministries of Iraq.
https://erbilbuilding.com/

7 apr 2025 – 13 apr 2025
Messe München
Germania
BAUMA 2025
33rd Edition of the World's Leading Trade Fair for Construction Machinery, Building Material Machines, Mining Machines, Construction Vehicles and Construction Equipment.
What drives the construction, building materials and mining machinery industries? For years, exhibitors and visitors have been finding answers to these questions at bauma—the world's leading trade fair. With a view to the future, BAUMA offers the international industry a common platform for profitable innovations, cross-border exchange and far-reaching perspectives. See for yourself.
The future of the construction and mining industry: bauma 2022
Take the opportunity and secure your participation in bauma 2022. In touch with the international construction, building materials and mining industries, benefit from the following advantages:
-valuable insights into promising technologies at the world's leading trade fair for construction machines,
-a unique network of global business professionals and renowned experts,
-an enormous international potential that offers your company new perspectives.
www.bauma.de